Basset Fauve De Bretagne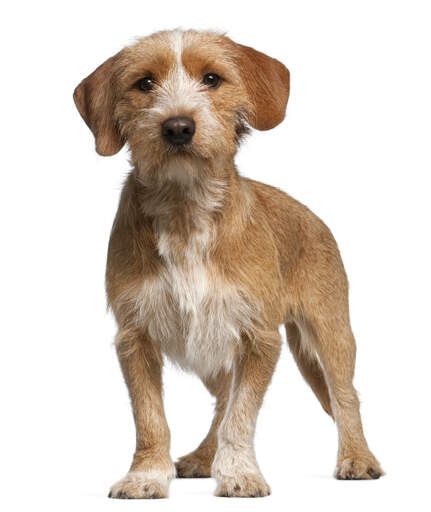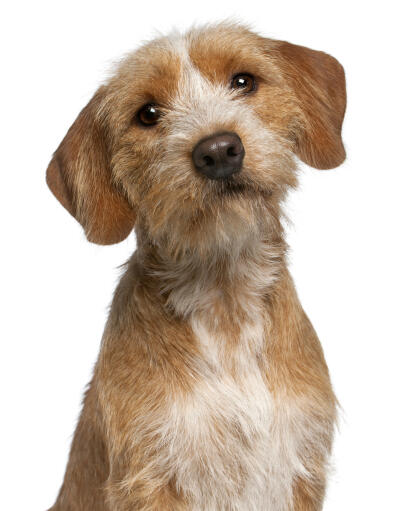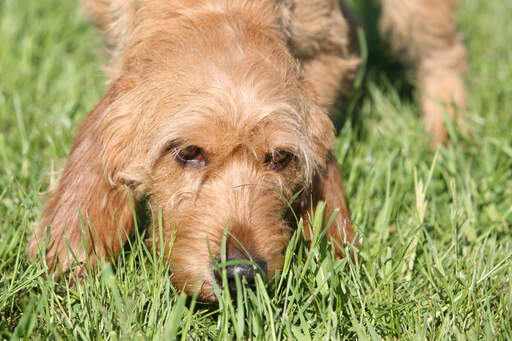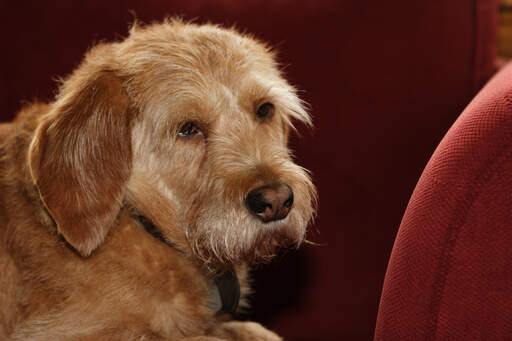 Geschichte
---
The Basset Fauve de Bretagne is a French hunting breed belonging to the Hound group of dogs. It probably descends from the Grand Fauve de Bretagne which is now extinct. The breed was used by commoners who were allowed to hunt after the French Revolution; prior to this it was only nobility allowed to hunt. Being on foot, they needed a slower dog that could track and hunt, but one they could also keep up with. The breed became very rare until a concerted effort was made to bring it back from the brink of extinction. It was cross bred with the Basset Griffon Vendeen and Wire Haired Dachshund to produce the breed we recognise today.
Verhalten
---
The BFDB, also known as the Fawn Bretagne Basset is a loving companion as well as active hunting dog. They get on well with children, other dogs and cats if raised with them. They are usually friendly with strangers, but do give a warning bark if someone is at the door. They are inactive at home, but like to be included in the family and do not cope well being left alone for long periods or being confined to a crate. They are best suited to an active family who will include the dog in their daily activities.
Like other Bassets, the BFDB is a scent hound and loves nothing more than being outside following the scent and exploring the world. No matter how well you train them, the fresh scent of rabbit is irresistible to them and they will dash off in search of it. Their recall is good in the home, or on a long lead, but outside when allowed off lead, it is non existent. Caution should be observed if walked off lead in a non secure area, as one of the most common causes of death is road accidents with this breed. The scent overrules all common sense and they will run into the road. They need a fair amount of daily exercise to keep them fit and prevent obesity.
Training can take time, but is possible, they need firm, fair treatment and will refuse to listen if harsh words are used. You will need patience and a sense of humour when training BFDBs and lots of treats. They were bred to work independently and this trait makes training a little more tricky, they are free thinkers who like to do things their own way. Consistency is the key to training the Fauve.
Their coat is thick and wiry and requires stripping/clipping (pets) a few times a year to keep it looking neat, the hair around their eyes and ears should be trimmed more often. Brushing a couple of times a week will keep the coat tidy.
Like all Basset type breeds, some can develop back problems as they get old, but the BFDB is one of the hardiest of the group.
Charakter
---
Basset Fauve De Bretagnes have a lively and inquisitive temperament. Like all scent hounds they have a tendency to suddenly go ''deaf'' to commands as soon as their nose picks up something interesting. However these are cheerful little dogs who make great companions around the house and are generally friendly to all they meet. That said, early socialisation will really help them to develop into well rounded individuals.
Gesundheitliche Probleme
---
Health problems that may affect Basset Fauve De Bretagnes include cancer, heart disease and kidney disease.
Einzelheiten zur Rasse
---
Status: Common
Lebenserwartung: 11 - 14 years
Produktgewicht: 16 - 18 kg
Höhe: 13 - 15"
Selten: Nein
Fell: Größe M
Pflegeanforderungen: Mehr als einmal pro Woche
Stadt oder Land: Beides
Mindestanforderungen an Umgebung: Kleines Haus
Mindestanforderungen an Garten: Großer Garten
Rassetyp: Laufhund
Version: Größe M
Energieniveau: Größe M
Benötigte Bewegung: Mehr als zwei Stunden
Fotos der Rasse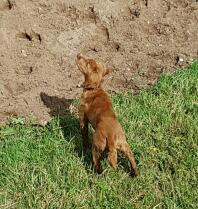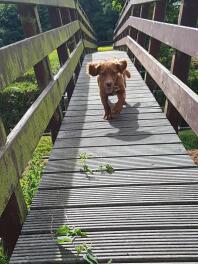 Neueste Bewertungen für Basset Fauve De Bretagne
---
There are not yet any reviews for this breed. Click
here
to write one.