Patterdale Terrier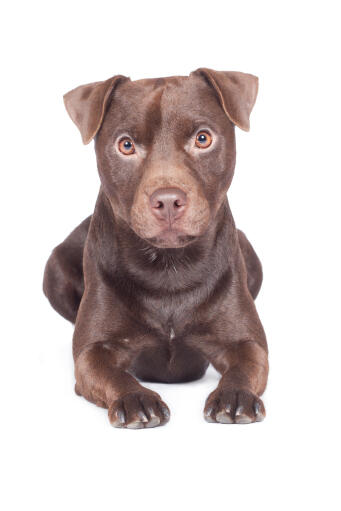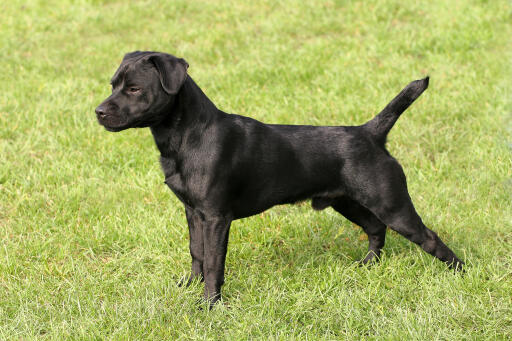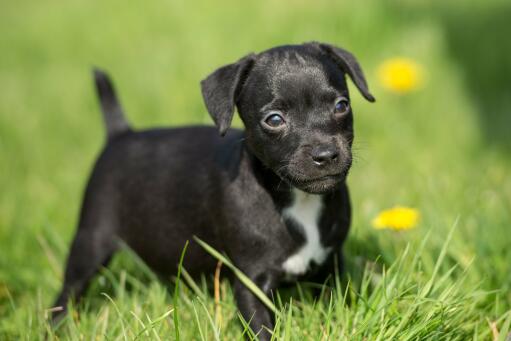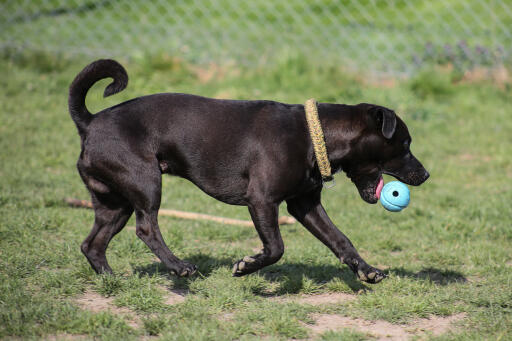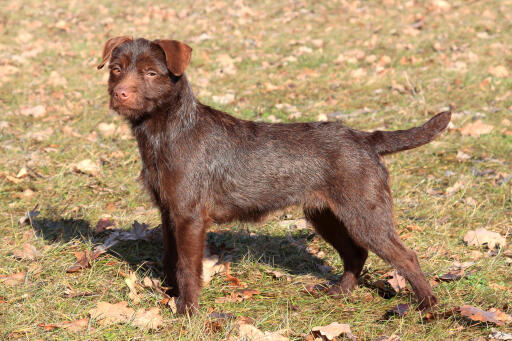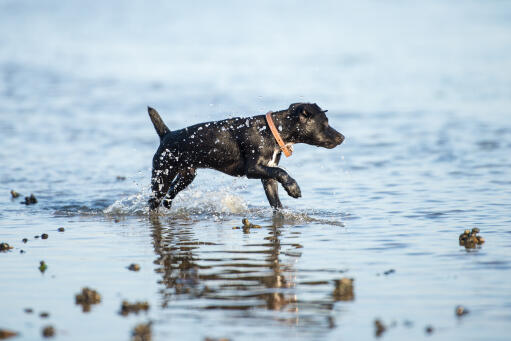 Geschichte
---
The Patterdale Terrier originates from the Lake District in England and was first bred during the 1960's as a working dog. Farmers would use the breed to protect new born lambs from the risk of fox attack. Capable of hunting foxes and digging them out of the den to dispatch them, the Patterdale is a skilled hunter of all types of vermin. It's name comes from a chance encounter at the village of Patterdale's dog show.
Verhalten
---
Patterdales are fearless and active. They love to play and do well with respectful children and other dogs in the home. They are ok with cats if raised form an early age, but this is down to the individual dog. Some will chase cats. Usually ok with strangers, the Patterdale like any dog will need early socialisation to acclimatise it to different situations. Getting out and about and introducing them to other dogs, people and places will help you own a well rounded dog that is ok in most situation. The Patterdales tendency to hunt cannot be controlled. They will chase anything that moves and that can include cars, birds and bikes. They need strict training to prevent accidents as the breed seem to get into trouble often. They can be mischievous and sneaky to get their own way, but their personality outweighs their naughtiness. They are fun and love to be around people, though they aren't too demanding of your attention and can be left after a long walk to tire them out. Agility, Flyball and Terrier racing are all good ways to keep them active and they seem to relish in the competition. They are happy dogs that like to please you and are very loyal. They are generally quiet in the home and like to cuddle up on the sofa with you. They also like to find the warmest place to sleep - usually your bed. Being active hunters, Patterdales will not cope well with a short walk around the block. They need the chance to run around and explore - but bear in mind that the area should be fenced in or keep your dog on a long lead. They will hunt and be off before you even realise it; usually found down a rabbit hole. Their recall can be good if there is nothing more interesting for them. They can be greedy, so this does help when it comes to training. Praise and reward based training works wonders with this clever breed.
Their coat is short and quite low maintenance, but their claws can grow quite long and require regular clipping. Getting your dog used to having it's paws touched will make life easier. Patterdales are a healthy breed and rarely suffer problems, but because they always have their heads in something they often get eye problems, such as conjunctivitis.
Charakter
---
Patterdale Terriers have a fearless but friendly temperament. Happy to be by your side or cuddling you on the sofa the Patterdale may fool you into thinking he is soft. That can change very quickly when you see this ball of muscle on the hunt or agitated by strange dogs. Traditional terrier characteristics like noisy, aggressive, energetic, inquisitive and tireless shine through in the Patterdale. Good enough with strangers but not so good with strange animals.
Gesundheitliche Probleme
---
Health problems that may affect Patterdale Terriers includes conjunctivitis and some dental issues.
Einzelheiten zur Rasse
---
Status: Common
Lebenserwartung: 11 - 13 years
Produktgewicht: 5 - 6 kg
Höhe: 11- 12"
Selten: Nein
Fell: Klein
Pflegeanforderungen: Einmal pro Woche
Stadt oder Land: Land
Mindestanforderungen an Umgebung: Kleines Haus
Mindestanforderungen an Garten: Kleiner bis mittelgroßer Garten
Rassetyp: Hund zur Schädlingsbekämpfung
Version: Größe S
Energieniveau: Hoch
Benötigte Bewegung: Bis zu einer Stunde
Neueste Bewertungen für Patterdale Terrier
---
There are not yet any reviews for this breed. Click
here
to write one.