Norwich Terrier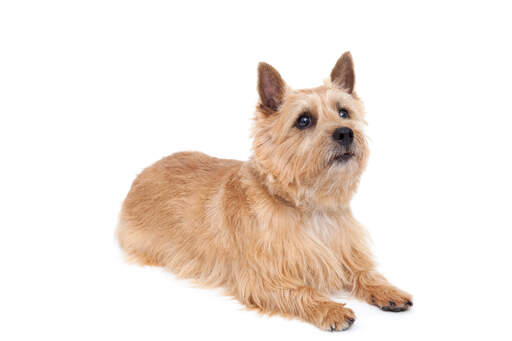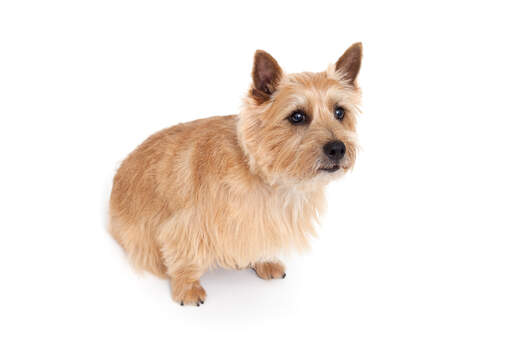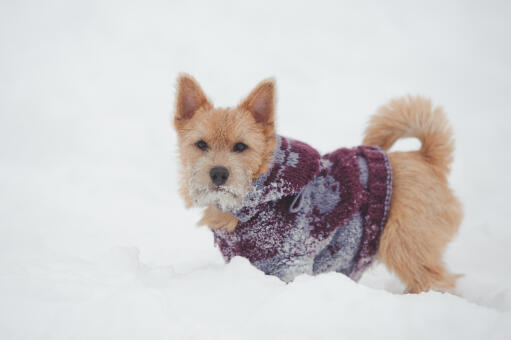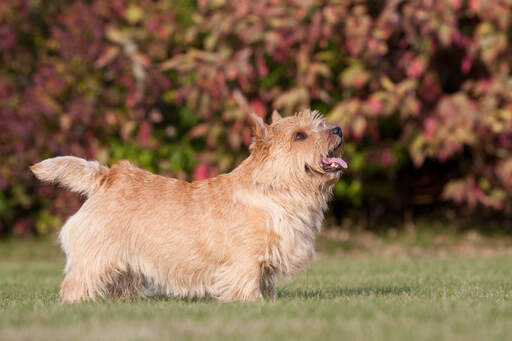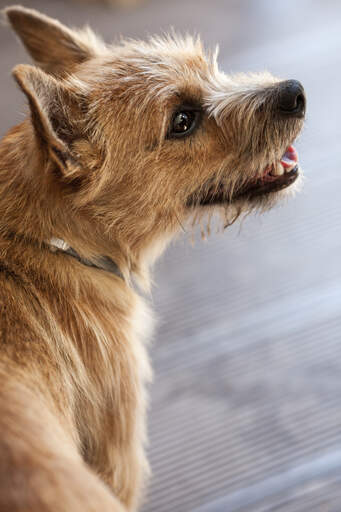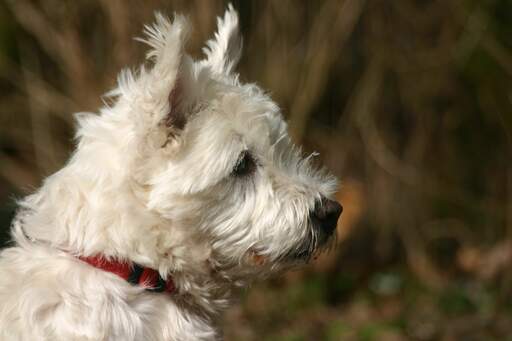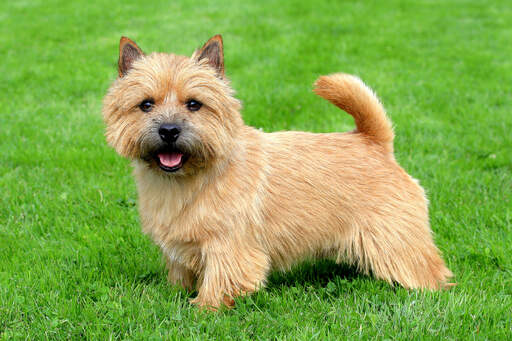 Geschichte
---
The Norwich Terrier is classed as a relatively modern breed. It was used mainly on farms to catch vermin, but this included chasing and hunting foxes as their small size meant they could follow the fox in to the den. The Norwich and Norfolk Terriers were classed as the same breed until 1964, the difference being their ears. Norwich Terriers have upright (prick) ears, where as the Norfolk's are dropped. They were bred with Glen of Imaal Terriers to achieve the dog we recognise today. They are very popular in America.
Verhalten
---
Norwich Terriers are one of the smallest in the Terrier group. What they lack in size they make up for in personality and zest for life. They are bold and tenacious, typical Terrier traits, but love being around people and are good with children/other pets if raised with them. They are feisty, extremely affectionate and loyal to their families and rarely aggressive towards strangers - but wary at first. They will bark when the door bell sounds and make good little watch dogs. Like all Terriers, they have a high prey drive and cannot be trusted with small furry pets, rabbits, squirrels etc when out walking. Bred as working dogs, they need a job to do and get bored quickly with repetitive training. Using treats and games to teach them works best to keep their minds engaged. They learn quickly and are happy to please you, but can sometimes question the point of it all. Norwich Terriers enjoy obedience classes, agility and Earthdog trials and seem to excel with the added attention. They require consistent, playful coaching; using toys often helps. They have a well balanced, people friendly nature and seem to thrive on human companionship; they can suffer separation anxiety if not accustomed to being left alone. For such small dogs, they require a fair amount of exercise. A very long walk a day is best, plus at least another shorter one. They are active dogs, but cannot be trusted off the lead, even in a fenced in area - they will find the hole in the fence.
They need a weekly brush to keep the coat looking tidy and trimming twice a year to remove dead fur. Stripping for show dogs and clipping for pets. Clipping will soften the coat. Like most Terriers, Norwichs are a hardy breed that rarely suffer ailments. However Tracheal Collapse is more common and owners are advised to use a harness for walking, rather than a collar. Epilepsy is also sometimes seen.
Charakter
---
Norwich Terriers have a sociable but stubborn temperament. They are inquisitive in their surroudnings and enjoy a decent daily walk. More socially accepting than a lot of terriers they can just about get along with cats and other dogs although pets of the rodent variety should be kept far away, they are after all, still a terrier.
Gesundheitliche Probleme
---
Health problems that may affect Norwich Terriers include canine hip dysplasia (CHD), elbow dysplasia, luxating patella (dislocation of the knee cap), allergies, cataracts, heart disease and intervertebral disc disease (pressure on spinal cord that can cause paralysis).
Einzelheiten zur Rasse
---
Status: Common
Lebenserwartung: 13 - 14 years
Produktgewicht: 5 - 5.4 kg
Höhe: 10"
Selten: Nein
Fell: Größe M
Pflegeanforderungen: Mehr als einmal pro Woche
Stadt oder Land: Beides
Mindestanforderungen an Umgebung: Wohnung
Mindestanforderungen an Garten: Kleiner bis mittelgroßer Garten
Rassetyp: Hund zur Schädlingsbekämpfung
Version: Größe S
Energieniveau: Hoch
Benötigte Bewegung: Bis zu einer Stunde
Neueste Bewertungen für Norwich Terrier
---
There are not yet any reviews for this breed. Click
here
to write one.